Shade Sails & Structures - Proudly Servicing - North, South, East and West Brisbane since 2005
Shade sails suit the Qld lifestyle, look fantastic and offer a cost effective solution to ensure we all have adequate shade cover at home, your place of business or our learning institutions. It is legislated that schools and childcare centres in Qld provide a certain percentage of available outdoor areas in shade, to create that barrier between you and the sun. All Brisbane Shade & Sails fabrics are endorsed by the Cancer Council of Australia and can offer up to 98% UV protection, dependent on colour choice.
Shade sails are available in any shape or form providing there are adequate connection points to absorb the high, constant wind loads. Fixings are either steel posts, galvanised then powder-coated and set into engineered concrete footings, starting at a minimum of 1200mm deep or other engineer approved methods of connecting to suitable existing structures.
Good quality shade fabric will have minimum stretch which is required to ensure a tight fit and reduce sail sag. The best results will be achieved with a highly tensioned sail, with plenty of height differentials that tend to take on a three dimensional appearance.
While shade sails may look very similar when completed, a lot of companies will cut corners to save themselves money, but at Brisbane Shade & Sails the manufacturing processes we use plus the addition of CAD programming, ensure we produce the best possible value for money shade sails available.
We only use Brisbane's Best Shade Sail Manufacturers
Some sailmakers still operate from home based garage type businesses with no computer aided programming, still reliant on old style sewing machines and sewing threads.
At Brisbane Shade & Sails we utilise two of the best sail making companies available, one business located in Brisbane has been around since 1948, originally tarpaulin makers and the other company operating from the Gold Coast has combined sail making experience of over 50 years. Both companies know the uncompromising quality we demand and both produce it in spades. Our standard shade sails include the following:
316 Marine grade Pro-Rig fittings to corners
316 Grade stainless steel cables sized by our engineer
Sail gussets have triple reinforcing of fabric
Sail have reinforced webbing to cable entry and exit points to prevent cable tear
All stitching is done with Tenara PTFE Monofilament thread (UV stabilised)
The best fabric warranty in the Industry
We will only ever supply or recommend the most reliable and proven shade sail fabrics in the industry with exceptional UV ratings and warranties to match. Compare our corner samples when choosing your shade sail company, we provide the best in the industry, Australia wide.
When it comes to providing shade solutions another option is a shade structure, and to keep it simple we offer two standard types of structures shown below. These are ideal and can be adapted to service many different types of areas or needs, whether it be a carport for the home or business or shade for competitors at an archery range, these structure are engineered and generally easy to install depending on site conditions.
Option 1: The Hip & Ridge Shade Structure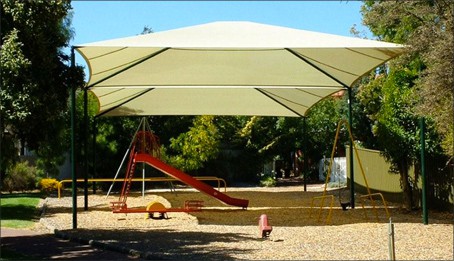 This type of structure has a steel frame with posts, rafters and a ridge beam which is constructed and then covered with either a shade or PVC tensioned canopy. These structures are commonly found in learning institutions, childcare facilities and over play equipment in council parks where plenty of height is the requirement. They also provide excellent cover for the boat or caravan.
Option 2: The Curved Roof Shade Structure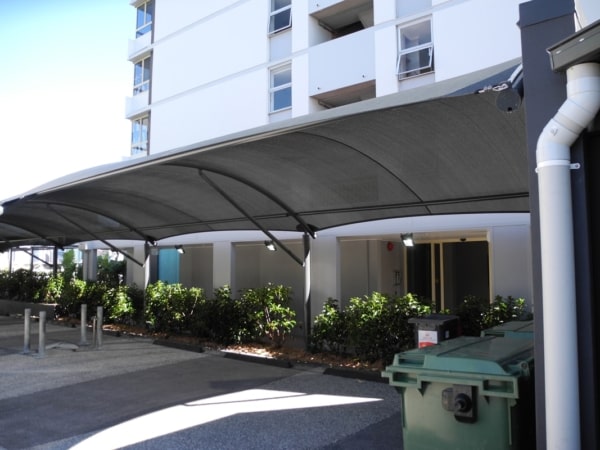 This type of structure is mainly used as alternative to a hard roof carport We can manufacture them as a single cantilever frame or a double cantilever frame. For a boutique carpark shade at your home or business they are ideal, they can be manufactured to any reasonable size and can be covered with a shade or waterproof vinyl canopy.
Order Your Products today & Pay later!
Humm Interests Free Repayments Available From $1 to $7,000
Let's get the ball rolling
As our products are recognised as market leaders in shade sail design and manufacture, talk to our design consultants and take a look at our sail fabric samples today. We are able to offer an unmatched 10 year Fabric Warranty for UV breakdown or fabric faults, this warranty is offered exclusively to Brisbane Shade & Sails customers by Halifax Vogel (conditions apply).
Very pleased with the sail, a big thank you to everyone involved.
Mum and I want to thank you for all your help, it was a pleasure to deal with you. Best wishes.
Don and I appreciate Brisbane Shade & Sails attention to detail, in the construction, the admin's communication and the follow up.Best Wishes.
My husband and I are very happy with the final product, also thank you to Scott an awesome installer and lovely young man.
The workers installing did such a great job and were a pleasure to work with.
Fantastic from start to finish. Everyone we dealt with was very friendly and informative.
Very pleased with the overall service, product, installation and price.
We accept Visa & Mastercard

Colour Visualiser
Please select from the colours below.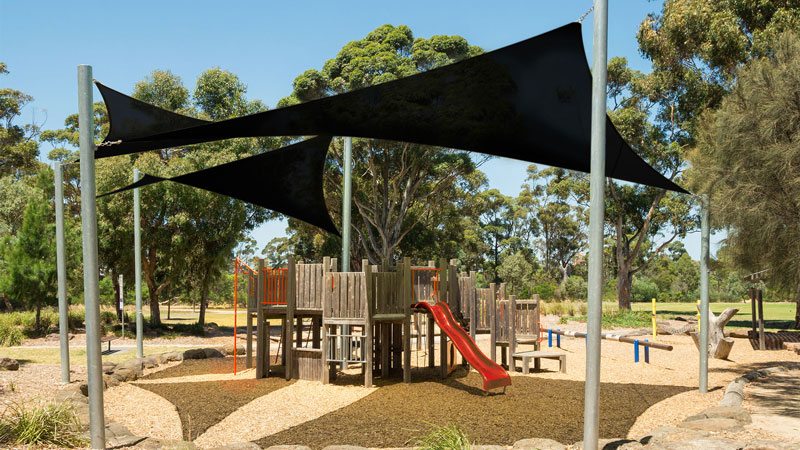 EXTRABLOCK™ Midnight
EXTRABLOCK™
Extrablock™ HDPE mono-tape knit construction is a high-tensile shade cloth with a 12 year warranty. Flame retardant, high UV and dimensionally stable for when protection matters.
Want to book an appointment with us to discuss your shade structure or shade sail options? Click the button below to get in touch with the Brisbane Shade & Sails team.