Giant Umbrellas
Brisbane Shade & Sails offer a complete range of commercial and residential pool and patio umbrellas, some of our range have been manufactured locally in Brisbane by the same company for over 18 years.
Our domestic umbrellas are available as a more functional side post cantilever or a traditional centre post design. They are all structural aluminum design with powder-coat finish  and stainless steel hardware The canopy fabric on the domestic range is manufactured from water resistant European awnings acrylic, while the commercial range has an option for PVC vinyl. All canopies are available in a designer colour range.
Our umbrellas are available assembled for easy DIY or we can install.
Installations can either be a bolt to concrete or to a concrete footing depending on the circumstances. Full instructions for both are supplied.
State and Interstate orders are welcome and we can provide freight and insurance charges for you.
Premium Home Entertainment Series
Our Premium range of umbrellas are available only as a cantilever or side post, fully retractable option with 360 degree rotation and multi tilt positions. Manufactured locally with a scratch resistant powder coated frame and water resistant European acrylic canopy they are the best quality pool or patio umbrellas available. The umbrellas are operated by a robust low geared winding mechanism with removable tamper free handle, designed to be user friendly with two finger operation. They can be installed to an existing concrete slab or set into a concrete footing, are fully engineered products with certified wind ratings.
Available sizes:
2.5m; 3.0m, 3.6m; 4.0m; 4.5; 5.0m
2.5m; 3.0m; 3.2m; 3.6m
Canopy Colours: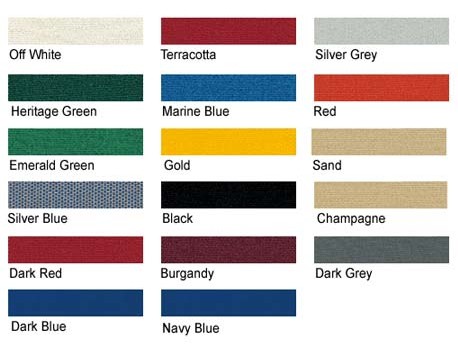 Frame Colours: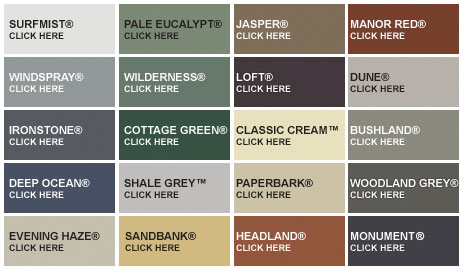 Our Premium Commercial range of umbrellas are locally manufactured from heavy wall structural aluminium and are available with Ferrari PVC or Acrylic Canvas canopy. These robust resort style umbrellas have wind ratings from 155KPH to 200KPH and although collapsible are designed to stay up all year round. The most common commercial umbrella is the traditional centre post but a cantilever side post option is available in two sizes.
Sizes available:
OCTAGONAL: 3.5m, 4.0m, 4.5m, 5.0m, 5.5m and 6.0m.
SQUARE: 3.0m, 3.6m, 4.0m, 4.5m, 4.8m and 5.0m.
SIDE POST: 4m, 5m, octagonal canopy only with installation to footing only.
Our powdercoated aluminium frames comes in a variety of colours.
Umbrella Frame Colour Selections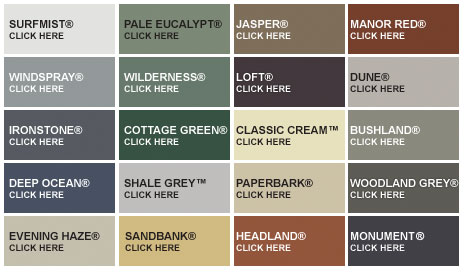 Canopies are made from the most advanced outdoor awning fabrics and come in two materials.
100% Acrylic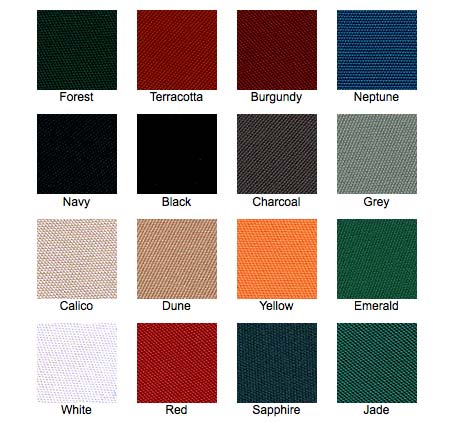 Ferrari '502' PVC Coated Polyester
Brisbane Shade & Sails has become an exclusive dealer for a new range of gas operated umbrellas.
With unique European styling these robust umbrellas will compliment any home or business with an application to suit everybody.
With the design focus being on ease of operation these umbrellas are in a class all of their own with the fact that they wind themselves up by way of hydraulics, a gas strut simply does the work for you "up and down" no winding mechanism is present.
This new range of umbrellas will suit specific areas of the marketplace that up until now were difficult to address, such as the sleekly designed SU 3 – Wall Mounted umbrella which is perfect for the unit or apartment complex as they are secured to the wall, fold down and can be packed away when not required.
At a Glance, The Benefits of our new Umbrella Range are:
No Winding Required all Umbrellas are Gas Strut Operated
Constructed from Anodised Structural Aluminium
European Awning Acrylic Water Resistant Canopy
Sleek European Designs
Protective Cover Supplied Standard with All Models
Models that will Rotate 360deg
Umbrellas can be installed Inground, to Slab, to Wall or on Portable Moveable Bases
Available as Square or Octagonal Tops
Can be configured for 1,2,3 or 4 umbrellas off one mast
Accessories such as LED lighting with Remote Control are available
All Wind Rated and Wind Tunnel Tested
DIY or Full Installation Available (Brisbane Metro Areas)
Interstate Orders Serviced and Welcomed
3 Day Turnaround with Freight Organised
Colour Options:
Order Your Products today & Pay later!
Humm Interests Free Repayments Available From $1 to $30,000
Let's get the ball rolling
As our products are recognised as market leaders in shade sail design and manufacture, talk to our design consultants and take a look at our sail fabric samples today. We are able to offer an unmatched 10 year Fabric Warranty for UV breakdown or fabric faults, this warranty is offered exclusively to Brisbane Shade & Sails customers by Halifax Vogel (conditions apply).
Very pleased with the sail, a big thank you to everyone involved.
Mum and I want to thank you for all your help, it was a pleasure to deal with you. Best wishes.
Don and I appreciate Brisbane Shade & Sails attention to detail, in the construction, the admin's communication and the follow up.Best Wishes.
My husband and I are very happy with the final product, also thank you to Scott an awesome installer and lovely young man.
The workers installing did such a great job and were a please to work with.
We accept American Express, Diners Card, Visa, Mastercard