Your outdoor area is a place that your family should be able to enjoy. Outdoor blinds and awnings are a very good investment for your home since they are very useful. They give you extra privacy when you need it, and they protect you from extreme elements all throughout the year.
On top of these functions, they are ultimately pleasing to the eyes, which helps them add value to your property. You want your awnings to look their best, so you want an excellent design with top-of-the-line functionality.
If you're looking for the best outdoor blinds in Brisbane for your home, Sattler is an excellent choice. They exclusively use premium acrylic for their fabrics. They take advantage of the latest technology when soaking the fabrics, so you're sure to get the best quality for your outdoor living space.
Sattler takes pride in the quality of their awning fabrics, which is a result of years and years of development and research. With skin protection in the company's mind, they have had their fabrics tested to very strict UV standard 801 tests. This test not only considers a fabric's performance when it is new. It also checks on how it behaves under various weather conditions. The test determines if the fabric can keep its promise of durability when exposed to extreme weather, which ensures that the ones you'll get will effectively protect you and your family for a long time.
With Sattler, you get outstanding repellency against water, dirt, and fungi. It is also possible to get almost 80% of energy savings, so investing in their awnings is an excellent investment. Their fabrics are made from 100% solution-dyed acrylic, so you'll be able to enjoy not only beautiful fabrics but also durable ones. Add this to the peace of mind you'll get when you purchase functional and color-fast fabrics, and you'll be enjoying a comfortable outdoor space with zero worries.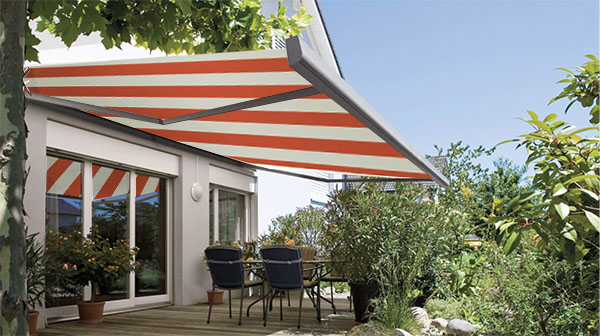 Sattler Lumera utilizes the Clear Brilliant Acrylic (CBA) technology, which means you get dense, smooth textures with brilliant and lovely colors. With this technology, the company has produced a compact, tactile awning weave, with its exclusive textured warp staple yarn. 
The CBA technology offers fabrics that are highly dirt-resistant due to the dense surface. The colors are much more vivid and attractive, and the fabric is water-resistant. Aside from this, your awning will last longer due to the tear-resistant quality of the cloth. The fabrics also have fungal-repellency. With all these characteristics, Sattler Lumera outdoor blinds and awnings can perform and protect your home for years to come, giving you more value for your money.
Just like outdoor blinds, awnings can help you protect your family from extreme weather conditions, and create a safe and comfortable space for you to enjoy for the years to come. If you want only the best for your outdoor living space, Sattler Lumera fabrics are an investment you will never regret. It is the fabric you'll want to touch and feel for a long time, and you will definitely love the way it transforms your space.